Reserve your dates
Let's reserve your dates now and we will ensure all the wild moments of your event is documented. If you have any questions please check our FAQ below.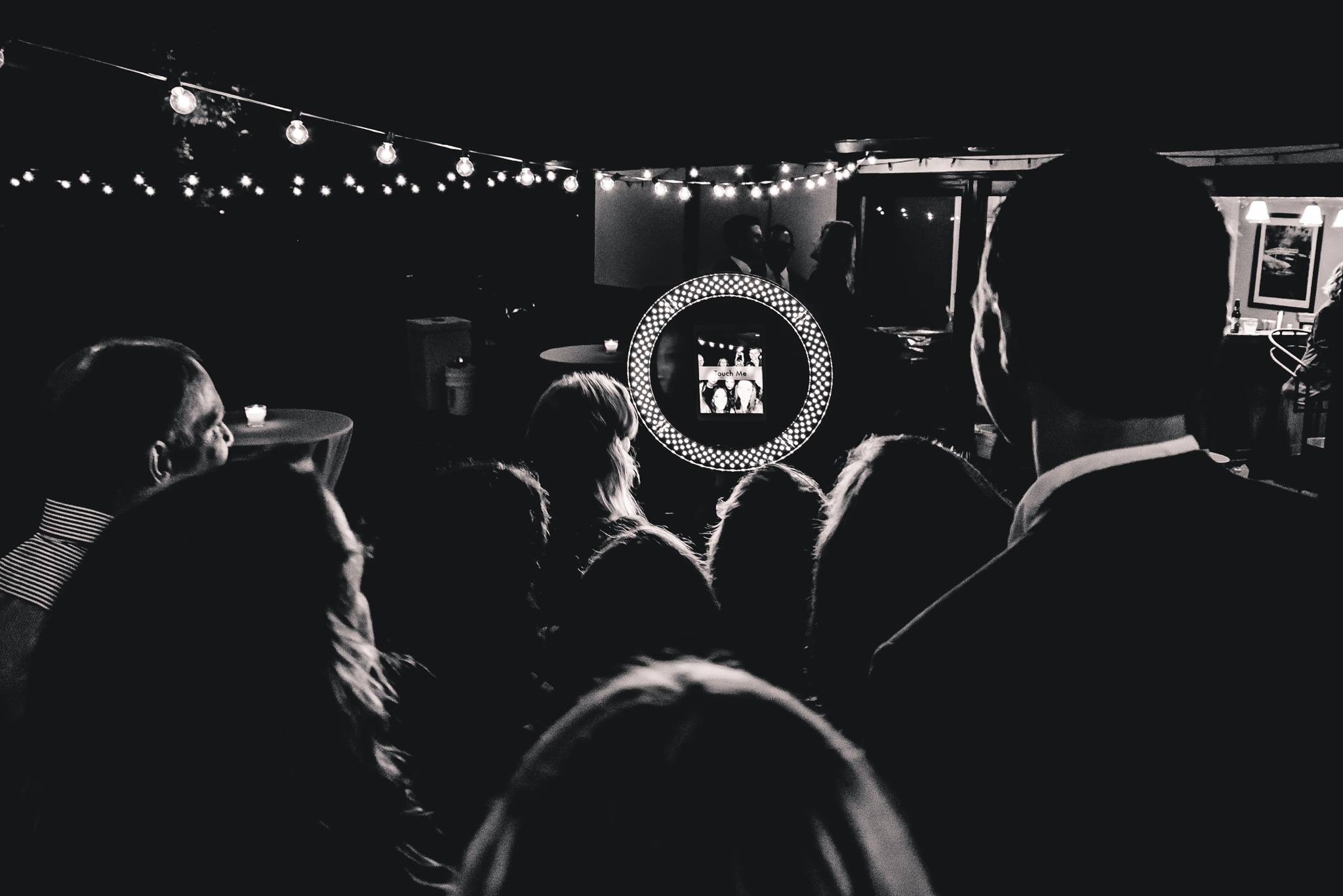 It's not that boring
photo-booth
GIF is the new thing and its not that printing photo booth which sits outside and takes your dancefloor outside in the lobby. You can put next to the bar or dance floor so action is captured
Frequently Asked Questions
Q - How is Gif-o-matic different from traditional photo-booth
Answer - Traditional photo-booth requests power and prints pictures, requires much more space, and access to power for the printer and lighting units. Gif-o-matic is a sleek, minimal design allows it to fit in pretty much any space, it is fully battery operated, and delivers digital GIFs (moving images) or just pictures via text message over wifi which are immediately shareable on social media, or just to enjoy in the moment.
Q - Does Gif booth print ?
Answer - Gif booth creates moving GIFs, which are simple digital animations made from a series of combined photos taken in quick succession. There are no prints, just 100% pure digital fun delivered straight to your phone
Q - Does Gif booth comes with props
Answer - Remember in the world of Gif, motion is the prop! We've seen people have endless fun with retro dance moves, deadpan expressions, slow motion shakes and other surprises. But, every event is different and you're welcome to supply your own props to suit the occasion! Trust me creative options are unlimited with something motion
Q - How much space this Gif booth take and how much time to setup ?
Answer - It takes only 10 minutes to setup, all we need to do from you is Wifi and it takes about 4x4 space and we would say keep about 6 ft space in front of the Gif booth so people can go crazy.
Q - Does the Gif booth come with the background ?
Answer - Remember its facing outward to the crowd and whole idea is to have it inside the party not sitting outside alone and thus the motion of your event is the backdrop! We've found that this allows for spontaneity and encourages others to join in. It looks great to have a bangin' party in the background. Since motion is the name of the game, it enhances the GIF. Also you can always move it next to bar or dance-floor.
Q - How do me and my guests access the GIFs ?
Answer - They can view the GIFs at the gallery link they are provided in the initial text message, and we can send out a text message after the event with another link to the gallery. You are welcome to provide us with a custom message to send with the link that is sent out during and after the event.You can download all the GIFs as well after the event.
Q - How many hours should I book GIF booth for ?
Answer - For best results on a wedding or event scenario is after people have had their drinks so that we can capture the craziness. 2 hours is minimum booking hours but for 300 plus event we recommend 3 hours.
Q - Can I put my Hashtag on the GIFs ?
Answer - Yes, We can add your logo or hashtag overlay on the GIFs. We charge additional $50 for the service.
Q - How can Gif-o-matic help on my corporate event ?
Answer -It is our goal to help you reach your target audience via brand placement with our GIF booth. Some additional custom options available to you are uploading your brand's logo to be displayed with the delivery of each GIF. After the event you may access the roster of email addresses from guests who entered their email address for follow-up and marketing purposes for you and your brand.
Please let us know if you are interested in this additional custom functionality, and we will send you more information.
Q - How far early should I book GIF booth ?
Answer - Its booked on a first come, first serve basis so we recommend sooner rather than later. However, we do accept last minute bookings as best we can. Please feel free to inquire regardless, and we will do our best to accommodate!
Q - How can use GIF booth ?
Answer - Its very easy to use so from 4 year old or 70 year old can use. It is super easy to use just touch of a button and craziness begins.
Q - Do I need Wifi or power connection ?
Answer - Yes you do need Wifi at the event space to make Gif booth work although if you do not have power let us know we can get power for you for additional 25$.
This amazing Gif booth works on batteries so we are all set to party even on the beach.
Q - How do I book & what all comes with the booking ?
Answer - You can send us a request on our contact form and we can send you contract and you can sign electronically and pay online via transfer or paypal.
7 days before the event we will request all the information needed for the event and two contact numbers we can reach out to you in case needed. Our trained professional will come set up the GIF booth where ever you prefer and pick it up after the event is over.
You can take a photo or GIFs and send it over to your phone right away. Isn't that so cool. Its like having a boomerangs photo-booth. People loved and everyone used our hashtag and shared it over instagram.
Neha Chopra | Toronto


This become light of party, Our friends created some fun-fun GIFs and we saw it after the wedding and these are some great memories. Its way better to have GIF-0-MATIC indoor
Sarah Li | Toronto
"I love it how GIF-O-MATIC can be moved to the dance floor or the bar so we able to capture some great crazy memories from our wedding" Its is not that boring photo booth which goes outside in the hallway.
Arpan & Dave | Caledon
Capturing all the craziness at your event
Best part of this GIF booth its portable so you can really move it wherever you like next to the bar where people can make all the dog faces or on the dance floor where uncles can show off their dance moves.